Thank you for visiting my website!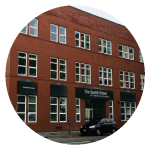 Here's a little bit about me: I am a student of theology and culture at the Seattle School of Theology and Psychology, a bizarre little grad school/seminary in Belltown, Seattle. I'm focusing my studies on the intersection of theology and literature.
My day job is as a transcriber/editor and quality assurance specialist for 3Play Media. I work with educational videos, movies, documentaries, radio programs, and webinars, editing transcripts and closed captioning. My favorite project has been writing transcripts to episodes of This American Life.
Apart from school and work, I am a writer. I mostly write creative nonfiction, but I try my hand at poetry now and then. This website is full of examples of my creative writing as well as my academic writing (see sidebar). I also like to create things. (It's the INTJ in me.) I'm the editor of my school's first-ever literary magazine, Lit, and I have a collaborative-ish blog over at theologyandliterature.com.
In my free time, I like to write, of course, and read (to say I'm obsessed with John Updike is an understatement). I care deeply about modern and contemporary literature. I am a history nut. I like memorizing things and re-organizing my books/desk/clothes.
So here's how the site works: a good chunk of my writing portfolio is here to view (see sidebar).  To the far left are icon links to my Facebook, Twitter, and LinkedIn accounts.