Thank you for visiting my website!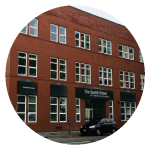 Here's a little bit about me: I am a student of theology and culture at the Seattle School of Theology and Psychology, a bizarre little grad school/seminary in Belltown, Seattle. I'm focusing my studies on the interaction of theology and literature.
Besides being a student, I am a writer. I mostly write creative nonfiction, but I try my hand at poetry now and then. This website is full of examples of my creative writing as well as my academic writing (see sidebar). I also like to create things. (It's the INTJ in me.) I'm the editor of my school's first-ever literary magazine, Lit, and I have a collaborative-ish blog over at theologyandliterature.com.
In my free time, I like to write, of course, and read (to say I'm obsessed with John Updike is an understatement). I care deeply about modern and contemporary literature. I am a history nut. I like memorizing things and re-organizing my books/desk/clothes.
And probably most importantly, I love to spend time with my partner, my pal Nathan,who gets my oddities and has his own. We love to sit out on our patio late at night, talking cosmology, ontology, spirituality, and the humanities.
So here's how the site works: a good chunk of my writing portfolio is here to view (see sidebar).  To the far left are icon links to my Facebook, Twitter, and LinkedIn accounts.